More flying info and piccies...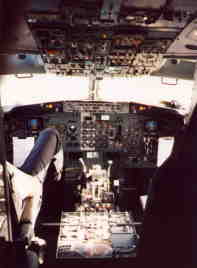 Every airliner has two pilots on the flight deck: a Captain on the left, and a First Officer on the right. Both have basically the same qualifications to fly the aircraft - but the ultimate responsibility belongs to the Captain. The guys I flew with all had at least 20 years experience more than me - it was a bad idea to chat with them about when they joined the airline: for one thing they'd talk about the Trident for half an hour, and then there'd be the embarrasment of admitting I wasn't even born when they started flying!
You don't fly with the same Captain all the time - (I think) there were about 120 on the 737 fleet, and every time you turned up for work it was someone different. You'd then work with them for that 'trip', which would be anything from 1 to 5 days, with 'nightstops', nights away, inbetween.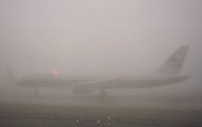 There was a good deal of hand-flying on the 737 - the autopilot got well used in the cruise, but as long as the weather was OK and I was in the mood, I used to enjoy flying the descent by hand. When the visibility is poor because of low cloud or fog, you use the autopilot to fly an 'auto approach and landing' - at Heathrow that meant the Captain making the decision to land or go away again at only 50 feet above the ground. My job with that kind of approach would be to set the approach up and monitor the instruments while the Captain looked for the Runway. It's some experience when its really foggy and the runway lights appear just before the decision height - at 50 feet they pretty well fill your forward vision, and before that it's just been grey nothing - great fun.
I had one or two minor incidents - an airmiss over the North Sea, the time I said the wrong word on take-off (it should be 'rotate', but somehow 'stop' slipped out... sorry Capt. Morris!), the time the Captain couldn't make up his mind: [me:]"decide"; [capt:] "land! ...... no, go-around .... you have control". But the other 2000 odd hours of flying varied between excellent (late clear night in from Jersey, visual to LHR from 30 miles.... Northern Lights over NW Canada followed by wicked landing from 200' cloudbase in pounding rain at Cardiff..... Thai meal in Munich with all the crew after a mammoth diversion.... ) and mildly boring (yet another Helsinki Stand-over).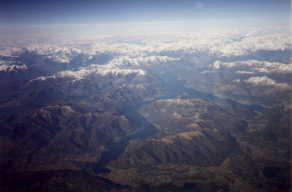 At 27 I was earning £40,000 a year, with the prospect of a flying career until I was 55, when my pension would probably have been even more....
What made you change jobs.....